Competitive Coaching Staff
Tristan Vowles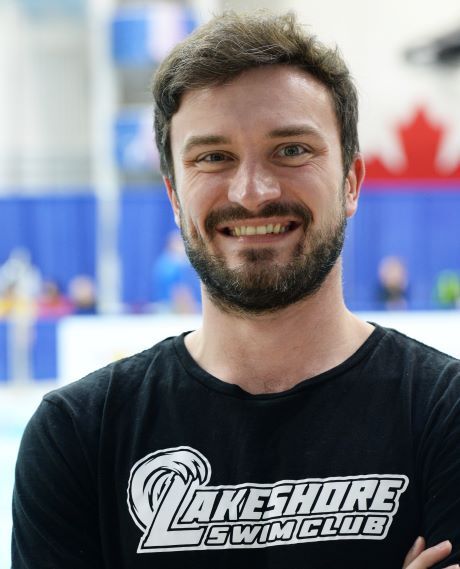 Head Coach, Lakeshore Performance Group Coach
Email: tristan@lakeshoreswimclub.com
Tristan has been a member of the swimming community for over 20 years. He began his coaching career with the Hamilton Aquatic Club, and worked as an assistant coach with the Etobicoke Swim Club for 7 years, where he was a part of numerous Ontario Provincial Championship winning teams, as well as the Canadian Junior Championship winning team in 2018. He believes in coaching each athlete on an individual level, inspiring them to create ambitious goals, and enabling fulfilment through challenge. He has developed a philosophy of coaching centered on values of effort, attitude, professionalism, and teamwork to achieve high performance results.
Tristan has had many athletes excel at the Provincial and National level. Some of Tristan's personal coaching accomplishments include:
1 swimmer selected for the 2017 Junior World Championships in Indianapolis, representing Albania for the 800FR, 1500FR, and 400IM
8 swimmers qualified for the 2020 Canadian Olympic Trials
1 swimmer on an Ontario Provincial relay record
5 swimmers in the top 16 at Ontario Junior International, including a B final winner in the men's 50BR
6 swimmers in the top 16 at Canadian Junior Championships, including a bronze medalist in the women's 800FR and a silver medalist in the open water event
Numerous winners, medalists, and finalists at the Ontario Provincial Championships
In Tristan's first two years as Head Coach:
Lakeshore has won 2 individual medals at Junior Nationals, the first medals for LSC at the National level since 2011
3 swimmers have won individual gold medals at the Ontario Swimming Championships, marking the first Provincial Championship gold medals for Lakeshore since 2017, and the first medals of any colour since 2018
3 swimmers qualified at the Trials level – the first Lakeshore athletes to cross the line to a Trials standard since 2016
Lakeshore swimmers have combined for over 120 club records, including 14 individual senior records
Tristan is excited to take pre-competitive athletes, foster their development through age group and senior level swimming, and prepare them for university athletics and life beyond the pool deck. He is looking forward to building a culture of excellence, and developing the next wave of great athletes and great people at Lakeshore Swim Club.
Riley Loewen
Head Age Group Coach, Junior Provincial Group Coach
Email: riley@lakeshoreswimclub.com
Riley is eager to transition his passion as a competitive swimmer to that of an enthusiastic coach ready to learn and grow. He is excited to bring the knowledge acquired from completing a Kinesiology degree at the University of Toronto and his many years of competitive swimming experience to the swimmers under his guidance.
Riley has had the privilege to learn from many distinguished coaches from the Etobicoke Swim Club and the University of Toronto. His swim career highlights would include many leadership awards, culminating in being named ESWIM's Swimmer of the Year. His coaches could attest that he was the hardest working swimmer at practice. Results come from hard work, and Riley prides himself in excellent time management skills, commitment to task, self-motivation and discipline and expects the same of his swimmers. Riley's favourite races were always the relays. He thrived in the pressure to perform for his teammates and club.
Swimming develops life long skills, life long friendships and excellent academic opportunities. Riley attributes his success in the academic world and confidence in life to the coaches and people of the swimming community. He loves this opportunity to give back to the Lakeshore community to help young athletes to learn and grow and flourish in the sport of swimming.
Jorge Ardila Abarca
Senior Development Lead, Senior/Regional Group Coach
Email: jorge@lakeshoreswimclub.com
Jorge's passion for swimming started at an early age in Peru, where he would learn that swimming would be part of his life.
Upon coming to Canada, Jorge took a position at the Downtown YMCA of Quebec in Montreal, which he held for 7 years, coaching swimmers in the Masters program. Here, he prepared daily training to improve athlete's endurance and swimming skills. He also coached the competitive swim club at Du Parc YMCA, where his group participated in the 2019 Team Festival in Montreal. At the same time, he was working as a swim instructor in the Centre D'Education Physique et des Sports de L'Universite de Montreal, and as a coach of the Masters program in Montreal city pools.
Jorge went on to coach in the age group competitive program at Neptune Natation in Montreal for 2 years, where his experience and skills allowed him to lead successful groups. At Neptune, he took 19 athletes to the Regional Cup, 5 swimmers to Quebec Provincial Championships, and 2 swimmers to the Quebec Games in 2022. He was also responsible for the Masters program.
Jorge is pursuing his passion for swimming as a coach working with children and teens, hoping to pass on his discipline and love for the sport to others through hard work, excellence and fun. Now as Senior Development Lead and Senior/Regional Group Coach at Lakeshore, he is excited to face a new challenge, and inspire swimmers to do their best and achieve their goals.
Maclaine Moore
Advanced Group Coach, Lakers Group Coach
Email: maclaine@lakeshoreswimclub.com
Maclaine began her swimming career at the age of 16 with Etobicoke Swim Club under coach Tristan Vowles. She then spent the last 5 years at Wilfrid Laurier University, where she swam on the varsity team and completed her undergraduate degree in Math and Economics.
During her years in the pool, Maclaine competed at various levels including Provincials, Easterns, OJI, OUA's, and Far Westerns in California.
Growing up around the sport, she started coaching at 16 in the pre-competitive program at ESWIM as well as assisting her sister in coaching a competitive group. While in university, she coached a pre-competitive group for the Region of Waterloo Swim Club.
As a new addition to the club, Maclaine is excited to be back on the pool deck learning and growing alongside her swimmers. She is looking forward to spreading her love and knowledge for the sport this upcoming season with Lakeshore.
Maya Kozieja
Blue Group Coach, Pre-Competitive Coach
Email:maya@lakeshoreswimclub.com
Maya swam competitively for 15 years with various swim clubs, including Etobicoke Swim Club, Blue Waves, York, and RAMAC. She is currently completing her bachelors degree in Nursing, but is very involved in the swimming world. She has been teaching and coaching swimming for over 7 years, and has taken positions with the Canadian Coast Guard, private swim companies, and the City of Toronto. She also competed and acted as an assisted coach for her school swim teams.
Last year Maya was coaching with Lakeshore with the Blue Group. She was able to maintain a fun, yet challenging environment which allowed for young swimmers to focus on skills while working together as a team.
As Maya in constantly involved in the aquatic atmosphere and holds a passion for swimming, she hopes to spread her knowledge and help young swimmers achieve thier goals in a creative and supportive environment. She is very happy to be a part of Lakeshore again this season, and is very much looking forward to meeting everyone!
Liam Eagles-Turner
Yellow Group Coach
Email: liam@lakeshoreswimclub.com
After playing soccer and basketball for 3 years, Liam moved his focus to swimming at the age of 12, swimming for Lakeshore for 7 years, working from the Fundamentals program to the Lakeshore Performance group. He also swam for his high school team, where he achieved 3 gold medals for his school at the city championship.
Liam joined Lakeshore's coaching team in 2022, working with the pre-competitive program. Liam's goal is to share his love for the sport and instill passion for achieving success in all swimmers.