Our History
​​​​​​​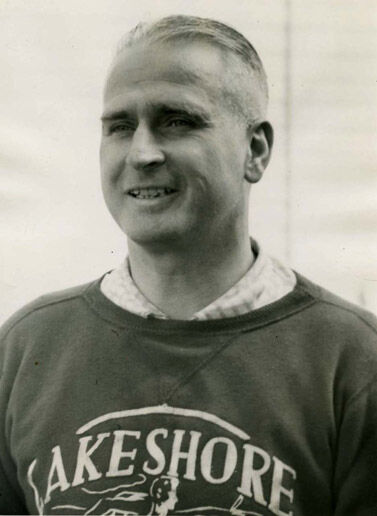 The Lakeshore Swim Club is Canada's oldest continuously-operating competitive swim club, founded in 1930 by Canadian Sports Hall of Famer Gus Ryder. We are a 100-swimmer club based in Etobicoke, Ontario.
During a hockey game on Grenadier Pond in 1917, Gus Ryder helped rescue two players who had broken through the ice. After this incident Gus realized the need for swimming instruction and over the course of his life he personally saved forty seven lives. In 1930 Gus founded the Lakeshore Swim Club with more than 700 people joining the club in the first year. The early club motto was "Everyone a life-saver."
That club started practicing in Lake Ontario, Etobicoke Creek and the Credit River. During the winter months they used the YMCA and Humberside Collegiate. In 1952, the Town of New Toronto supplied land and some capital, and the club raised the balance of the funds needed to open New Toronto Memorial Pool, now named Gus Ryder Pool on Faustina Drive.
Gus was widely acclaimed as a natural coach and teacher. Over Ryder's 56-year volunteer career, it has been estimated that more than 200,000 children learned to swim at his Lakeshore Swim Club. He was personally most proud of the program he instituted to teach physically challenged children to swim. Ryder was awarded the Order of Canada in 1975, primarily for this work with children.
Many Lakeshore swimmers gained acclaim and success in swimming competitions. Lakeshore's first major star was local resident Lucille 'Lou' Gamble who started swimming with the club in Lake Ontario at the age of seven. She became a champion distance swimmer, winning, among many others, the Mayor Jackson Trophy for three consecutive wins in marathon swimming. For her accomplishments, she was inducted into the Etobicoke Sports Hall of Fame in 1996. She is quoted saying that Ryder not only coached her to multiple wins, but also taught her the values of personal commitment and community service. Wendy Gamble said of her late mother, who passed away March 4, 2009 in her 89th year, "She swam her whole life and gave lessons up until she was 80 while serving as vice president of Lakeshore Swim Club...she was always in the pool."
Cliff Lumsdon was another early Lakeshore champion who won the World Marathon Swimming Championship in 1949, for which he received the Lou Marsh Trophy as Canada's top athlete. He then won four more world championships and was inducted into the Canadian Sports Hall of Fame. Ryder also coached marathon swimmer Marilyn Bell, who in 1954, at the age of 16 was the first person to swim across Lake Ontario.